This morning, I felt led to meditate on the word 选 or choose. I looked at the traditional 繁体 form of the word instead of the simplified 简体 form of the word.
You can see in the picture attached how the elements of the word come together.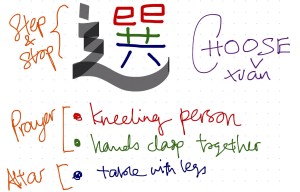 So the word CHOOSE =
We have choices to make every day. Before you take a step, stop. Say a prayer to the LORD (represented by the Altar).
Bible verses that came to mind?
But to You I cry, O Lord; and in the morning shall my prayer come to meet You. (‭Psalm‬ ‭88‬:‭13‬ AMP)
I anticipated the dawning of the morning and cried [in childlike prayer]; I hoped in Your word. (‭Psalm‬ ‭119‬:‭147‬ AMP)
Let us lift up our hearts and our hands [and then with them mount up in prayer] to God in heaven: (‭Lamentations‬ ‭3‬:‭41‬ AMP)
O come, let us worship and bow down, let us kneel before the Lord our Maker [in reverent praise and supplication]. (‭Psalm‬ ‭95‬:‭6‬ AMP)
The outcome of prayer?

And whatever you ask for in prayer, having faith and [really] believing, you will receive. (‭Matthew‬ ‭21‬:‭22‬ AMP)