Jesus loves you as a lover and a bridegroom. In the Song of Songs, the LORD revealed himself as a lover with passion in His heart is faithful to you to the very end. 
You are not alone and don't live with a sense of rejection in your heart. Jesus loves u. His love was demonstrated for you on the cross. 
Sermon starts:
Rejoice rejoice!
Pastor visiting Israel this week with our P&W team. 
Feel the yearning of the Father for the ancient people. Though blinded and veiled, Father loves them and the Father still loves them though they rejected His Son at first coming. 
Beloved for the Father's sake. 
Jews are some of the most loving people. God's love for them is still on. 
The greatest romance is when Jesus romanced us. The holy condescension of a God who came down to earth as a baby. Born to be a saviour and to rule. Could not hide the loveliness of grace, His compassion and moral excellence and the goodness of God 
Transfiguration- so exceedingly white that it shone. Peter James John never saw the Lord this way before. Peter offered to make three booths for Jesus, Moses and Elijah. 
Elijah's one of the two who didn't die. Enoch and Elijah did not die. Represent the rapture. 
Elijah here represents prophets and Moses represents the Law. Jesus spoke to them. Thick cloud came. Sinai- dark cloud. Here was a bright cloud. No such thing as mercy in the Law. The law makes no exceptions. Inflexible and unbending. True antinomians try to bend the law and its purpose. The law is the law. Kee it that way. 
The Father said THIS IS MY SON not Fhis us Moses and Elijah. He said HEAR HIM and not hear them. The law is expired. Necronism. Meant for a diff time and place. 
Under grace, conscious of God's love. Conscious of his favour. U might fall but under grace, He will cause the fall to greatly glorify His name. 
Sin is something God doesn't surrender to at the final verdict to your problem. 
Bathsheba sinned but she had Solomon. 
Pastors fear to preach how God can bring glory out of a sinful situation but that is based on carnal fear and not biblical fear. But truth begets a truthful lifestyle. 
Peter James John= Stone supplanted by grace.
Moses face shine after seeing God but people fled from it because of judgment. 
Jesus face shone with glory and people drawn to Him. True glory is ever there. Saw their glory and ran towards Him. The glory that says YOUR SINS ARE GONE. The perfect work of Calvary has removed our sins. This shining glory is something found no where else here on Earth. Each ray declares our sins are gone and that's why we can come face to face with Him. 
When He saves u, not a single sin of yours is left behind. 
Believe for salvation of loved ones and relatives. Use your faith for that. 
God's ways are SIMPLE AND POWERFUL. Man's ways are complicated. 
Men invented iphone and u must make sure it is  recharged and upkeep. Men create one thing and must create more things to upkeep it. Some like it and some don't. Expensive. 
God invented air and no one complained. It's available for rich and poor. Simple but powerful. From it many things are created. Free but not cheap. 
What's the one thing you can do that will cause you to prosper and succeed in every area of your life?
Gen 39:2-6 –> u can insert your name here 
Jospeh was just bought from the slave market like stock/cattle. The LORD was with Joseph even though he has nothing. If you have the LORD is with you, you have everything. 
Potiphar is an idol worshipper and yet he could see the LORD is with Joseph. May that happen with you. 
"Sar- liak" (phonetic)= prosper 
May the LORD make the works of your hand to prosper. Do your best but don't fight with the rest. Do it simple but powerful. Never forget the LORD. 
During the exam time, pastor spends time with Jessica to study the Word so she knows the Word takes priority. 🙂
Favour with people and with authorities – the LORD bless us with this
You might be young and use your looks or skill to do something. There might come a time when your looks fade or the skill is no longer in need. You will realise then that you will need favour of the LORD. 
The LORD cause you to prosper and people won't know why but want to hire you. 
When you know God favours u, won't stoop down to the Low level
Don't give in to small sex outside of marriage because it objectifies you and robs you. 
Focus on the big sex He created for us to enjoy within marriage. 
Porn is not the real deal. Just a show. Destroys marriages. If u want to indulge yourself in it, will lose your marriage and kids' respect and self respect. 
Holding back means at the right time u are propelled. You have to pull back the string of the bow and hold before u let go and propels the arrow forwards. If the bow is always being used, next time can't go very far. 
Psalm 1- "… and whatsoever he doeth shall prosper."
Even your mistakes prosper 
Psalm 1:3
Leaf speak of health. Leaves of the tree are for medicine. When your leaf doesn't either, means your health never fails and you will always be healthy. (Pastor sings Cliff Richard's "Young Ones" lol)
Jesus sat in the midst of the Bible Teachers at 12yo. He knew in the season he was in, it's not right to tell them things but to ask questions and when they ask him back, to give answers. Spoke to them differently than when he turned 30. Jesus subjected himself to his parents and grew in wisdom, favour and stature. Their understanding and knowledge is lower than his yet He subjected himself to them, kept quiet and followed them when they said to go home. The one who is wisdom personified subjected himself to those who aren't as wise as He is. 
Submission. Doesn't mean you are less inferior if you submit. A CEO might not know everything but if the employee thinks he knows everything, his future in the firm is in question
Psalm 1:2-3
Meditation on His Word- brings success in every area. Pastor learned this when he was 14yo. Observed that good things happened to people he knew who meditated on the Word. 
Hagah- mutter. 
V2- Law can apply to Ten Commandments or Pentateuch or the entire Word of God. Maybe David was studying on Joseph
"This book…"—> Joshua 1:8 
What was Joshua doing? Spending time with the Word. If he was doing something else, it would say that' book'. Told to meditate for then he will make his way prosperous 
Same Hebrew word "Sar-Liak" used here.
Good success- time to possess possessions and enjoy inheritance in Christ 
Psalm 1:2- meditate day and night 
Spend time reading the Word and if a verse speaks to u, memorize it. And when u lie down and can't sleep, meditate. Eg. "For the grace of his lips, the king will be his Friend" Lord give me gracious lips. 
Meditation will bring sleep to you. 
Prob 6:22- can't sleep? Wake up halfway at night? Meditate and the verse will bring u to rest and bless you. 
Church was raising fund. Pastor said we didn't preach to people we've got to this or that. No. We get to rest in Him. 
Pastor meditated on "I am a tree planted in rivers of water" when they were otw to Israel. Came across a place just like it there: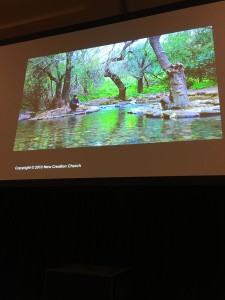 These trees will never suffer drought. They have a subterranean supply to draw from. Have this faith image. Meditation of the Word day and night to possess it. 
People fear to worry because of terrorism and Zika. 
Take no thought. Don't worry and be anxious about what u should do, how to raise your kids, etc. When a worrisome thought happens don't say it. Thoughts unspoken will die unborn. Thought will come. Esp during spiritual warfare. Verses are your weapons. 
When the devil came against Jesus, what did Jesus say? How did Jesus fight Satan? By quoting the bible. "It is written…" Not by rhema word but by the written word, the sword. 
Jesus didn't come against the devil using his personal dignity. Used The Word. 
Important to have the sword with you- the bible- when u travel. 
Thought: "You never know ah nowadays how they use this and that to commit terror acts…"
Self: "SURELY HE SHALL DELIVER YOU FROM THE TRAP OF THE FOWLER AND THE PERILOUS  PESTILENCE… (psalm 91)
God sees the traps we don't and He will surely deliver us. Btw If you pray the verse and never personalise it, it's ok. The HS won't say orh he didn't personalise it so he can't have it. It's ok whether you personalise it or not
IF you can worry, you can meditate. Don't worry about if people think u are crazy coz u are muttering to yourself. 
A woman was meditating on Ps91, when a man grabbed her in the alley. She couldn't remember anything from the verse but the Word FEATHERS. The guy let her go and ran off. 
Bearing us on eagle's wings to carry us further and to protect us. Reminds us of the fire and the Mother hen burned to death protecting her chicks under her wings. Feathers. 
Devil uses personal pronouns in the thoughts he gives us. Eg. "I am lousy" not "you are lousy". 
Mount Arbel- the place Jesus fed the 5000
V steep mountain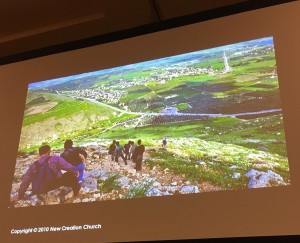 They came across a cow
Meditation like the cow chews cud. 
Don't eat of animals who don't chew cud
– don't feed of ministries who don't meditate on the Word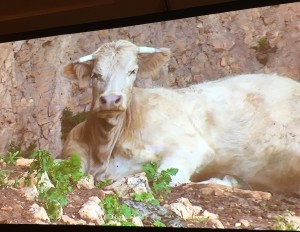 Ps explained the process of chewing for cows. Chews and digests until the water comes out of it- water = spirit 
Deut 7:15- meditate for health 
Rom 8:32- meditate on needs
Feed then can feed. Cow hasn't milk to give without feeding.
Meditate = holy 
Daily devo app available now- "Joseph Prince" app
Many of u are worried for our kids
Deut 11:18-21 KJV
Lay His Word in the centre of your mind. Put His Word first. 
The moment we worry about the kids they push us aside. Teenage thing. But when u are cool about it because u trust the LORD, they are drawn to u. Meditate before our kids but do it naturally- make it a part of daily life. Doesn't have to be enforced and regimental. 
Deut 11:19- U shall teach them Aleph Tav
In the past people feared a righteous God because of judgment. Today we have a full claim over His righteousness because of Jesus' shed blood that demands the forgiveness for us and the blessings on us. God is faithful to honor Jesus' finished work.