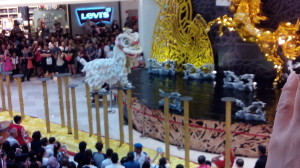 15 days of Lunar New Year celebration is finally over. Did you have a good time with family and friends? What are the things you enjoy most about the Lunar New Year? Receiving red packets? Eating new year goodies? Playing a little bit of Mahjong and Blackjack?
As for me, what I like most is the opportunity to watch lion dance performances. I've always enjoyed watching lion dance performances since I was a little kid and over the years, I've learnt how to appreciate whether a lion dance performance is good or not.
The really good ones make you forget that you are watching two guys wriggling under a lion costume; instead, they mesmerise your eyes into seeing a real life mythical lion on a real adventure eg. scaling a mountain top to snare a prize.  With every flap of its ears, every flutter of its eyelids and wriggling of its butt, you are drawn into the lion's world – its fear and hesitancy when it encounters an obstacle in its way; its courage rising within as it prepares to leap across a chasm to reach the other side; its unrestrained joy and pride after the successful jump, all perfectly synced to a rhythm of hypnotic drum beats and clashing cymbals.
Every Lunar New Year season, a number of lion dance troupes will visit my hawker centre; a few are engaged by hawkers for a five to ten minutes performance to bless their respective stalls but many are what I call "beggar lions" which go from stall to stall performing cursory ten-second greetings in exchange for a small angpow. Without fail, the lion troupes will announce their presence via their drums and over the past ten years, I have discovered that I do not need to watch the lions to know if they are any good; I just need to listen to their drum beats.
The lousy lions will invariably be accompanied by a lousy drum which is small, poorly maintained resulting in a shallow hollow sound; and a lousy drummer who is lazy or disinterested resulting in haphazard drum beats with abrupt changes in rhythm. The drum beats tend to sound rushed and impatient, as if the lions could not wait to leave the hawker centre.  On the other hand, the good lions will be accompanied by a big solid drum with a deep bass sound, and a drummer who is attentive and able to smoothly vary the sound and the rhythm of the drumbeats, painting a picture of the lion in your mind through your ears. 
Similarly, after attending church for more than three decades, I have observed that the one thing which will give you a clue as to whether a pastor is genuine is to listen to his drum beat i.e. his preaching. Do not judge a pastor solely by his actions.
I have heard Christians express shock when they discover that a pastor whom they "know" had commited some sins or even crime. Why were they shocked? Simply because they have seen him do all the "pastoral" things like visit sick church members in hospitals, comfort members mourning a family tragedy, counsel troubled members, do charitable work or generally looking kind and approachable.
While it is not necessarily so, I would like to caution that it is possible for all these actions to be faked, a charade put up by the pastor. However, there is one thing which cannot be faked – the pastor's preaching. When a pastor is living in sin, the last thing he wants to do is to commune with the Holy Spirit. Without the Holy Spirit, how can the pastor be expected to come up with a good sermon to feed his sheep? 
The errant pastor might be able to get by for a while by preaching from the syllabus and notes from his bible school days but sooner or later that well will run dry. He may then become desperate enough to even plagiarize sermons by other pastors because the Sunday deadline is always looming. Hence, long before a pastor's private life of sin becomes public knowledge, the discerning members already would have sensed that something is just not right with the pastor through listening attentively to his preaching. 
What are some of the tell-tale signs of an errant pastor's preaching?
1) He never or very seldom mentions the name of Jesus.
2) He talks about himself more than he talks about God.
3) He talks about sins, especially certain specific sins more than God's forgiveness of sins.
4) He quotes verses during his sermon without elaborating on the context of those verses (and if you spend the time to check, you will discover that the verses were quoted out of context).
5) He preaches a lot of sermons about money with emphasis on giving more and more money to the church.
It is by no means an exhausitive list but in general, if week after week of sermons leave you feeling depressed or unfed, it is a good bet that there is something wrong going on in that pastor's life.
Let me stress that this is just my personal observation and you are totally free to disagree with me. By the way, any resemblance to any specific pastor whom you might think of is purely coincidental. Shalom.