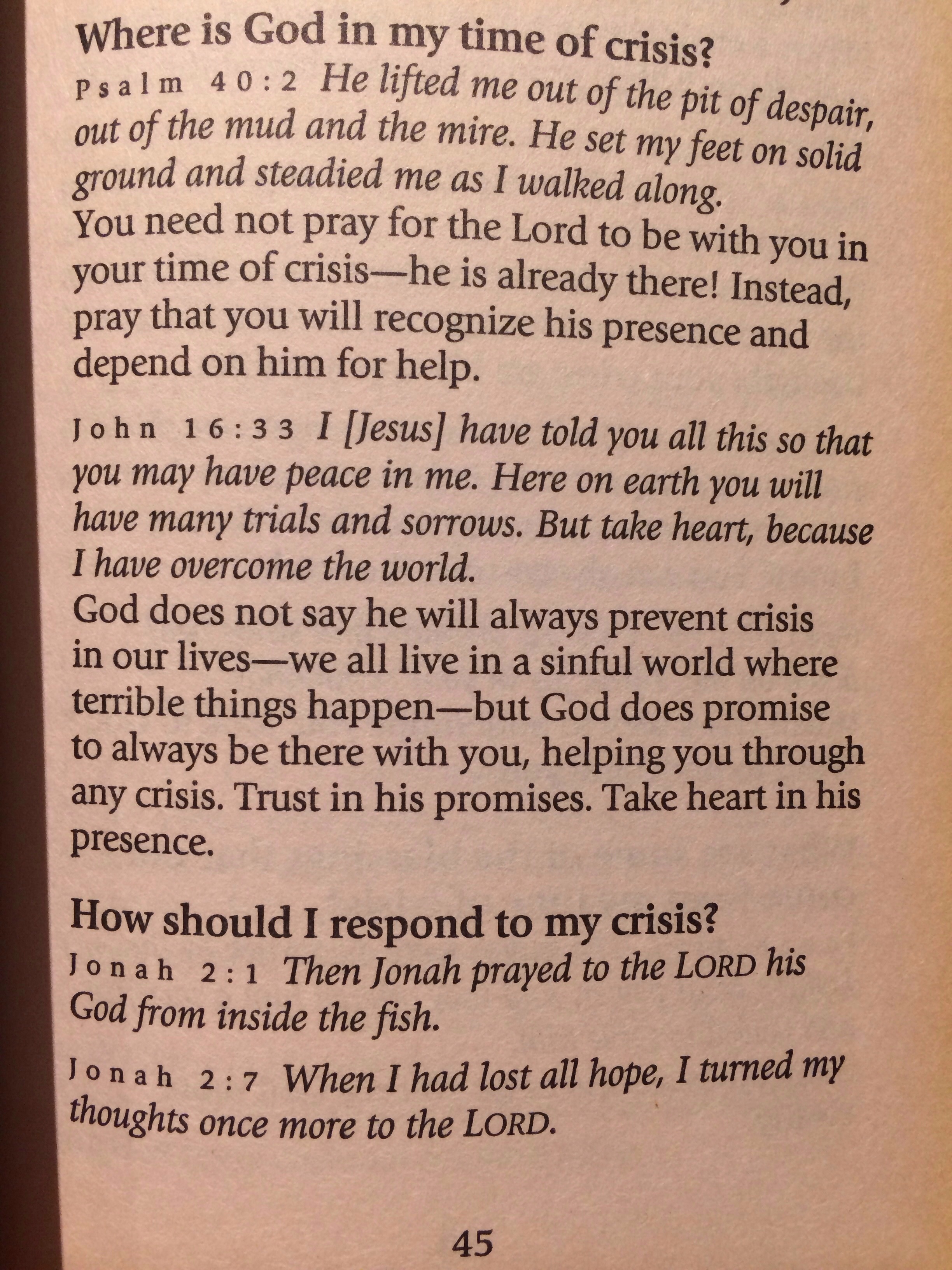 Sometimes we go through a season where things are tough, and instead of focusing on the how, why, when questions which causes me to spiral into despair, I have come to learn to focus on the I AM.
Jesus is.
Every lack, every problem, every anxiety, every doubt has one answer- YESHUA.
And HE is risen. He has accomplished it all for us.
I love how this book's extract (see above pic) reminds us to perceive Jesus is already here in the crisis with us rather than praying for Him to please be with us.
He isn't a distant God. He is EVER PRESENT.
One song I used to listen to as a kid was Bette Midler's song and it says "God is watching us from a distance…" And that song never resounded with my inner man. But Midler is Jewish so her understanding lacks the new covenant revelation we now have through the HS.
I recall when I was feeling depressed and I almost leaped off my balcony. I was 15 then and regularly believing Ps91 over my life. I was v down because I felt deeply misunderstood and very alone. I knew Jesus then (was a worship leader even) but I gave so much focus to the issues plaguing me then that the many lies of the devil overwhelmed me. So I found myself one night, deeply saddened, drowning in tears, and thinking the world would be a better place without me. Many lies flooded my mind like how my folks would get over my death and have more money to spend on themselves which will be better for them, etc. I leaned forward but instead of plummeting twelve stories to my death (bedroom door was locked and I was alone in my room), I felt arms pulling me back on to my bed. I have no doubt the LORD's hand of protection was on me and that the angel armies He has tasked to watch over me lest I hurt my feet on the stones had pulled me back.
Even today, his handprints are all over my life and each time a crisis tries to throw me a curve ball, I am reminded of His faithfulness and that helps me to face the crisis w confidence in His goodness.
When we were v tight in our finances last year, we received an anonymous blessing of supermarket vouchers totalling $500. I was in tears when I saw them. Just amazed that He had moved someone to bless us in our time of need.
When my boy was in a diff school some years ago and having a hard time, the HOD of his course turned out to be my former form teacher's v v good friend- something v unexpected. Before we both realised that, she already favoured him and worked closely with me to help him cope better. It was also no coincidence that K's classmate's mum watched out v carefully for him and kept me informed. I know these ladies were placed there as sign posts by Daddy God to tell me "I AM with Kae. I AM with your family. Fear not."
I keep seeing His fingerprints even as the winds howl around me and whip at the waves. Every week, the sermons address my concerns spot on. Everywhere I look, I see His post-it notes in people, situations, verses and things I experience.
Then I stop worrying about when things will improve for us financially, when our son will mature, whether I will have more writing projects come in & I just trust in His timing because He fails us not and His timing can only bless us. Our timing and our way sometimes seems optimal to us but might have brought us harm.
I am heartened that this year is the year of God's greater glory for our church and I know the path of the righteous can only grow brighter and brighter even if it gets darker in the natural. I look forward to the breakthroughs we will experience this year and know we will encounter His goodness and mercy at every juncture of our walk with Him. 🙂