You are not as righteous as the leaders, pastors or even the angels, but you are as righteous as God Himself, as righteous as Jesus Himself is!
Romans 5:17
For if by the transgression of the one, death reigned through the one, much more those who receive the abundance of grace and of the gift of righteousness will reign in life.
Confess: "I am the righteousness of God IN Christ" everyday and you will begin to reign in life!
It is especially when we fail, that is the time to lay hold of the gift of righteousness!
——  Start of Sermon —————–
Proverbs 12:28
The righteous should choose his friends carefully,
For the way of the wicked leads them astray.
Ps Benjamin:  "I always like to encourage people to build replenishing relationships."
Relationships can either replenish us, or deplete us.
Today, as we are all building up our lives, realize that your friends determine what kind of life you end up getting!
Proverbs 27:17 
As iron sharpens iron,
So a man sharpens the countenance of his friend.
It is important to look for friends with similar life stations, or similar situations.
For example, if you are in varsity studying full-time, find friends who are also going through the same things. Mug together for your exams or something.
Look for common grounds, this is especially pertinent when you are looking for a life partner, because it is much easier to talk to one another, to relate when there is some common ground.
Having said that, it does not mean we start choosing friends that always agree with us 100%.
Don't be afraid of conflicts in a relationship, there will bound to be some of those.
Proverbs 27:6
Faithful are the wounds of a friend,
But the kisses of an enemy are deceitful.
Every time iron undergoes sharpening, sparks are produced. So don't run away from conflicts, but try to resolve them.
The ability to resolve conflicts in a relationship shows a person's maturity.
Don't worry, if the Lord opens you up, He will sew you back up! Don't run away from the operating table with your appendix hanging out!
Everyone needs a sparring partner to improve.
Acts 2:42
And they continued steadfastly in the apostles' doctrine and fellowship, in the breaking of bread, and in prayers.
There are four things the disciples did daily.
They continued steadfastly in the doctrine,
They continued steadfastly in fellowship,
They continued steadfastly in Holy Communion,
They continued steadfastly in prayer.
Fellowship is different from the mere friendship of the world with your colleagues and friends outside because the Holy Spirit is involved with fellowship.
That's why when we fellowship, its not for gossip. We are not a social club!
Pray this prayer:  Lord, whoever I need, may You bring those people into my life.
At this age, to be in Genrev, to be born in this season, it is divine and spiritual.
Even the CG that you are in, it is not by co-incidence!
Fellowships are designed for us to share with one another about the Word of God.
Pastor Benjamin is not asking us to prepare a weekly sermon to preach to our friends, but all it takes, it can just be simple things from the Word, simple truths.
Ps Benjamin: "Sometimes, we should just quit the habit of taking notes, because later on if you don't go back and read, then why bother?  It is far more important to catch at that point, at that moment, what the Lord is saying to you specifically."
Believe that every single sermon you sit in, the Lord has a special "that one thing" that is for you. Lean in, catch it, and meditate on it. 
Don't be concerned with teaching others. Be concerned with your own learning n feeding, and what you learn will teach others also.
Ps Benjamin recounts a story of when Ps Darren, Trevor (in charge of Omega Travel and RGBC) were still teenagers, they would fellowship together. Trevor would drive them around. go to East Coast Park, and just talk about the Lord. One night, they were talking about the baptism of the Holy Spirit, and Trevor at the time had not yet received the baptism of the Holy Spirit. After hearing his friends talk about it, Trevor said:" I want to receive this baptism". They were like, here? now?
Yea, here, now. So they laid hands on him, and prayed for him, and Trevor fell backwards under the power of the Holy Spirit, praying in tongues! 
That is fellowship, where everyone is built up, is edified.
Ps Prince heard about this, and said that it was probably then that the gift of leadership fell upon all three of them.
When we fellowship, when we say the things we say, when it is about the Lord, around the Word, it is never natural but supernatural.
Just speak it out! 
Isolation is the enemy's device. 
If you feel that no one cares for you, that you are all alone, no one understands, recognize that is the Devil's tactics.
Thank God that in this place, in NCC, there are people who will love you and care for you!
Mark 5:1 – 5
Then they came to the other side of the sea, to the country of the Gadarenes. 2 And when He had come out of the boat, immediately there met Him out of the tombs a man with an unclean spirit, 3 who had his dwelling among the tombs; and no one could bind him, not even with chains, 4 because he had often been bound with shackles and chains. And the chains had been pulled apart by him, and the shackles broken in pieces; neither could anyone tame him. 5 And always, night and day, he was in the mountains and in the tombs, crying out and cutting himself with stones.
If you have an inclination to want to hurt yourself, to cut yourself, there is hope for you!  
Feel free to speak to a leader, or pastor, they will minister unto you!
No matter what oppression you encounter, come to Jesus as you are, and as you sit at His feet, you will be restored to your right mind!
Sometimes you don't feel like coming to CG, to service, and say that you want time alone. 
At those times we pull away, make sure it is not spent in self-introspective manner. 
If you want to have alone time, have it with God. Have a secret life with Jesus! 
That way, you will not end up introspective and gloomy.
There is protection in fellowship.
Proverbs 11:14
Where there is no counsel, the people fall;
But in the multitude of counselors there is safety.
Whenever you are about to make major life decisions, it is always wise to bounce it off your leaders.
Areas may include : Job change, marrying your life partner, etc.
Even if someone disagrees with you, go and bring it back before the Lord.
Don't isolate yourself. Everyone has some sort of baggage from their past, or their upbringing.
************************************
Ps Benjamin goes on a rabbit trail. 
In all your friendliness and fellowshipping, don't lend money, neither be a guarantor for your friends.
If you really want to, be prepared that you will never see that money again. 
*************************************************
We all need the grace of God. 
This is why fellowship is so much more than just friendship, simply because the Holy Spirit is involved.
If you need help finding friends, just be friendly! 
Ps Benjamin: I encourage you this year to reach out to someone you think is unattractive. 15 mins before service starts there are plenty of people already seated in the auditorium, find those that always sit alone playing with their handphones and go and reach out to them! 
Romans 15:1-2
We then who are strong ought to bear with the scruples of the weak, and not to please ourselves. 2 Let each of us please his neighbor for his good, leading to edification. 
Those of us who are stronger, maybe your CG is not up to your expectations, but be generous! Strengthen them!
We tend to forget to relate to people in church. If you don't know what to say, especially if you don't know the person, just say Hi! , great sermon just now! Hope you had received something!
Start by making small talk. You will never know how it might make a person's day.
Give yourself that challenge this year, :" Use me Lord, to reach out to someone."
Otherwise, if you are always taking in and not giving out, you'll end up like the Dead Sea! 
But if we give from the overflow of what we have received its like being the Sea of Galilee.
Often times we seek after spiritual gifts, but seek after love, and the gifts will follow!
When we touch someone's life, its not us, but the Lord through us.
Forget about helping third world countries, just focus on the person from the third row!
Abram built 3 altars.
Genesis 12:6-9
 6 Abram passed through the land to the place of Shechem, as far as the terebinth tree of Moreh. And the Canaanites were then in the land.7 Then the Lord appeared to Abram and said, "To your descendants I will give this land." And there he built an altar to the Lord, who had appeared to him. 8 And he moved from there to the mountain east of Bethel, and he pitched his tent with Bethel on the west and Ai on the east; there he built an altar to the Lord and called on the name of the Lord. 9 So Abram journeyed, going on still toward the South. 
Genesis 13:18
18 Then Abram moved his tent, and went and dwelt by the terebinth trees of Mamre, which are in Hebron, and built an altar there to the Lord.
These three places, Shechem, Bethel and Hebron. 
Shechem = Strength
Bethel = House of God
Hebron = Fellowship
Here's the link: 
First, Abram was weak, then he found Strength in the Lord, then he went to the House of God, then finally he found Fellowship!
What was the result?
Go back to Genesis 12
God gave Abraham the promise in Genesis 12, and from Genesis 13 – 18, Abram stayed in Hebron, where he had fellowship. 
During this time, a couple of things happened.
1) He arrived at Hebron after his seperation from Lot. 
Abram prioritized fellowship, while Lot went off to Sodom, and ended up a captive in the war. 
2) Abram launched the rescue from Hebron. 
3) Abram and Sarai had their names changed to Abraham and Sarah at Hebron! 
God took the two "graces" in His name, and gave it to Abram to become Abraham, and Sarai to become Sarah
4) Abraham was 75 yrs old in Genesis 12, and didnt see the promise for years, but in Hebron, Abraham received his son Isaac within one year of receiving the promise!
Mamre in Hebrew means fatness or oiliness.
In Fellowship, is the fullness of the anointing of God.
Interestingly, it was in Fellowship, that David was anointed twice to be king!
Once was when he became King of Judah, and second when he was made king of all Israel.
Both anointings were performed in Hebron.
Matthew 18:20
For where two or three are gathered together in My name, I am there in the midst of them."
When you come into fellowship, it is not just hanging out, or chillin' but the FIRE OF GOD will descend instead!
In our society, many things can be stressful and demanding, and its funny how stress causes your neck and shoulders to tighten up, to tense up.
Jesus has an answer.
Isaiah 10:27 
It shall come to pass in that day
That his burden will be taken away from your shoulder,
And his yoke from your neck,
And the yoke will be destroyed because of the anointing oil.
In Mamre, in Hebron, with the anointing that comes through fellowship with one another, the burdens of stress shall be broken.
On a final note, do you know, that one of the cities of Refuge that God set, was in Hebron?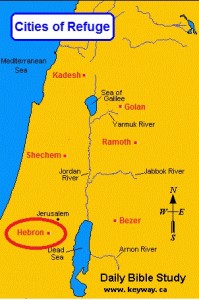 Truly, there is protection, anointing, growth and safety in fellowship.
————–end of sermon ——————————-