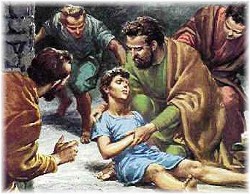 You are not young for nothing!
There are many parables used in the Bible, types and symbols in the Old Testament that represent Christ, and as you feed upon the Word, and begin to see Christ, it will make you strong and tall, and you will be a shelter unto many!
Acts 20:7 – 12
7 Now on the first day of the week, when the disciples came together to break bread,…

There is power in partaking of the Holy Communion. Let it not become a mere ritual for you.


… Paul, ready to depart the next day, spoke to them and continued his message until midnight. 8 There were many lamps in the upper room where they were gathered together.
Paul is a type, which represents the ministry that would bring the Gospel to the gentiles.
He represents a minister of the new covenant.
 9 And in a window sat a certain young man named Eutychus, who was sinking into a deep sleep. He was overcome by sleep; and as Paul continued speaking, he fell down from the third story and was taken up dead. 
When people get used to the gospel of grace, they begin to shut off.
Poor Eutychus is also a picture, of a young generation that fell asleep, and fell.
Eutychus name has several meanings.
1) Good Fortune
2) Affluence, inheritance 
10 But Paul went down, fell on him, and embracing him said, "Do not trouble yourselves, for his life is in him." 11 Now when he had come up, had broken bread and eaten, and talked a long while, even till daybreak, he departed. 12 And they brought the young man in alive, and they were not a little comforted.
Paul went down to Eutychus' level!
The people of this generation are dead in their sins, so a minister of the Gospel must bring the Gospel of Grace, and let it embrace him, and he will live.
There is a difference between wanting to embrace the Gospel, and being embraced by the Gospel.
If you feel there is no more life, there is death, get back into hearing the word of Grace, and it will bring life to you!
Acts 20:28 to 32
28 Therefore take heed to yourselves and to all the flock, among which the Holy Spirit has made you overseers, to shepherd the church of God which He purchased with His own blood. 29 For I know this, that after my departure savage wolves will come in among you, not sparing the flock. 30 Also from among yourselves men will rise up, speaking perverse things, to draw away the disciples after themselves. 31 Therefore watch, and remember that for three years I did not cease to warn everyone night and day with tears.32 "So now, brethren, I commend you to God and to the word of His grace, which is able to build you up and give you an inheritance among all those who are sanctified.
There is a warfare that is going on that is trying to take you away from the gospel of grace.
Sometimes we start to ask:" How come this guy is a leader?"
Don't worry about growing up, first be concerned with being built up. How?  By the word of grace !  Lean in, listen and fellowship!
Fellowship is to share around the Word, not for gossip.
Sanctify the time of fellowship by talking about Jesus
God will push those gifts that is dormant within you to the surface and these gifts will cause you to serve before kings
It's OK to have ambitions, but let your ambitions be to serve your Lord, Jesus!
Now, just because we sit there and hear and receive the word, doesn't mean we end up doing nothing.
When you come to a position of receiving, you will hear God speaking to you in your life because in His light we see light, and that will continue to build you up!
Ps Benjamin : Leaders, keep feeding your sheep, and they will rise to your expectations. Provide the supply and it will meet the demands without stress.
Hearing the Gospel of Grace gives you an inheritance! It will revive your Eutychus, your inheritance!
When you hear the word, the spirit is alive and you become more conscious of what the Lord is doing in you, through you and around you.
And as you are more conscious, the Lord will lead you to do the right thing at the right time!
Psalms 2:8 Ask of Me, and I will surely give the nations as Your inheritance, And the very ends of the earth as Your possession.
Ps Benjamin : I tell you, that it is the best inheritance that you will ever have because that is the only thing you can bring with you to heaven. You can't bring your gold there, but you can bring your friends there.
Changes may not happen overnight or even during the first 6 months but you are always growing quietly.
Jesus took 30 yrs to grow into His ministry.
It doesn't mean we have to do a lot of things, activity does not equal spirituality.
But spirit directed activity is what will come out of it!
John 14:1-6
"Let not your heart be troubled; you believe in God, believe also in Me. 2 In My Father's house are many mansions; if it were not so, I would have told you. I go to prepare a place for you. 3 And if I go and prepare a place for you, I will come again and receive you to Myself; that where I am, there you may be also. 4 And where I go you know, and the way you know."5 Thomas said to Him, "Lord, we do not know where You are going, and how can we know the way?" 6 Jesus said to him, "I am the way, the truth, and the life. No one comes to the Father except through Me.

In the last days it's not a spirit of anti-god that is going around the world, but anti-Christ.
We see kids, so young, running halfway and dropping dead of troubled hearts.
The way to let not your heart be troubled is to believe in Him!
Hebrews 10:19-22
19 Therefore, brethren, having boldness to enter the Holiest by the blood of Jesus, 20 by a new and living way which He consecrated for us, through the veil, that is, His flesh, 21 and having a High Priest over the house of God, 22 let us draw near with a true heart in full assurance of faith, having our hearts sprinkled from an evil conscience and our bodies washed with pure water.
We can find help in times of need via the throne of Grace!
If there are lying symptoms in your body, that may be true, but it is not the truth!
You will know the truth, and it will set you free!
And as you are being set free, you will come to the way that has life!
Jesus is the Way, the Truth and the Life!
The way – beginning
The truth –  middle
The Life  – the end
Ps Benjamin's revelation : Through Jesus – the Way that opens up the Truth that brings freedom that results in the Life!
Where there is light, there is always life! [repeats 3x for emphasis!]
Do you find sometimes at the end of the sermon, you feel lighter?  Like the darkness lifts off you?
Ppl who have a lot of life, seems to have a lot of freedom as well =D
Ps Benjamin: "Sometimes, we should just quit the habit of taking notes, because later on if you don't go back and read, then why bother?  It is far more important to catch at that point, at that moment, what the Lord is saying to you specifically.
What's happening in the inside will change what happens on the outside.
Let the Truth shine.
Lean in and catch it, it can be just one thing for the whole day, and meditate on it!
In growing it is not just listening but having caught something in your mind, and meditating on it.
That's when it drops from your head to your heart.
Ps Benjamin : Instead of praying for the situation to change, let God change you and then you be the change!
Joshen's commentary : I'm reminded of Gideon, and how he was changed from being the least, to the commander of Israel's armies.
After you walk away from Shine Auditorium to go have dinner, on your way home on MRT, ask yourself , what is that one truth you caught today?
Sometimes the sermon can be so rich, there are so many things to write down, to think about but transformation comes not by memorization , but meditatio.n
Psalms 1:2 -3
2 But his delight is in the law of the Lord,
    And in His law he meditates day and night.
3 He shall be like a tree
    Planted by the rivers of water,
    That brings forth its fruit in its season,
    Whose leaf also shall not wither;
And whatever he does shall prosper.
It is not on merit that we come before our Father to find help .
That is our confidence, in our daily life, that what is important is what happens on the inside.
Why does Pastor want us to be still?
So we can meditate on that one point for the day.
For our IT savvy friends, what's really important is not what you post online but what you believe in your heart secretly.
Cultivate a secret life.
Take time to fellowship with the Lord, to be alone with the Lord.
Just talk to Him, doesn't matter if you hear nothing back but the key thing is just pouring out on the Lord.
It will result in Life, the Life that you will want!